Seasons with the SilkPixie
We love the turning of the year, each season has its own magic, from the blossoming buds of spring, the full grown flowers of summer, the golden glow of autumn and the icy winds of winter.
For that reason we have decided to emphasise the seasons in our designs following the fashions and the forecasts.
---
This Month : March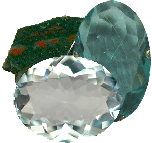 Spring arrives on the 21st of the month, the British celebrate Mothering Sunday and occasionally Easter is celebrated.
A good month for Celtic countries saints St David's Day is celebrated on the 1st in Wales, While St Patrick, of the Irish is celebrated world wide on the 17th. On the 12th in 1961 we saw the first man in space, while Prince Rainier of Monarco and Grace Kelly were married on the 18th in 1956.
March births include that of Vincent Van Gogh in 1853.
Gemstones
Stone of the month is the beryl stone Aquamarine, in beautiful tones of sea - green to ice blue. Stone for Pisces (19 Feb - 19 March) is the amethyst and for Aries (20 March - 20 April) it is red jasper.